Entrepreneurship awarness camp held on 8th February 2023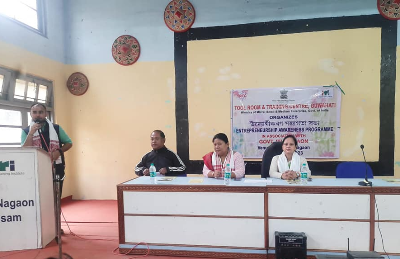 "World Youth Skills Day" observed in ITI Nagaon auditorium in presence of Staffs, Trainees and Public.

Chair persons are Prabir Kr. Das, Sr. Principal, ITI Nagaon (Middle), M. R. Thakur, Chairman, IMC, ITI Nagaon cum Deputy General Manager, Nagaon Paper Mill(HPC), Jagiroad (Right), Anindita Kashyap, Extra Assistant Commissioner, DC Nagaon (Left).

Entrepreneurship Development Institute of india- Ahmedabad conducted a 3 day long Entrepreneurship Awareness Camp at ITI Nagaon. The main aim of the camp was to give awareness on entrepreneurship to the technical background students of ITI-Nagaon. The programme was sponsored by Dept. of Science and Technology, Govt. of India. The programme duration was 24-26 March 2014. On 24th March 2014 the programme was started and on 25th March the students were taken for unit visit. On 26th March the programme was completed. This programme was conducted with active support of ITI-Nagaon and Sri Anjan Jyoti Goswami, Regional Co-ordinator, NE Regional Office, Guwahati.

Above same program was organized for remaining trainees from 26-05-2014 to 28-05-2014 and 29-05-2014 to 31-05-2014.