In the year 2008 the institute was upgraded & accepted as one of the "Centre of Excellence" ITI by Govt. of India introducing the IT Sector. Thus the institute became "Centre of Excellence" in "Information Technology Sector". In this process whole the COPA trade, one unit each from IT&ESM and Electrician trades were merged with IT Sector and three Modules were fulfilled among six Modules of IT(BBBT), further the old hostel building was renovated and shifted the whole IT Sector to that building.
In the year 2009 the "Food Processing Unit" was set up in joint collaboration between "Gajraj Corps" & ITI Nagaon. Further the workshop of MMV trade was also upgraded to "MPFI Based Trade Training Workshop" in support of "Gajraj Corps".
In the year 2010 three Advanced Modules were also added with IT Sector named 1) "Repair & Maintenance of Hardware of Computer & Peripherals", 2) "Computer Networking" and 3) "Multi Media & Web page Designing".
On 10-09-2012 the institute launched the own website https://itinagaon.com
On 21st November 2012 the State-of-the-Art Automobile Workshop, newly set up for Automobile Sector in support of "TATA Motors" was inaugurated by Sri Tarun Gogoi, Hon'ble Chief Minister, Assam in presence of prominent dignitaries of Assam & India. Within the ultramodern automobile workshop installation of new simulation machine for driving moved the institute to a new eminence.
As per order released from DGE&T by letter no.-(DGE&T-19(4)/2011-CD-Pt Dated-17th January 2013) Semester System was implemented in place of all existing CTS Trades of the institute from 1st August 2013. Continued>>
Mr. S.S. Naik, Regional Director & Mr. Bijit Singha, Joint Director of RDSDE, Guwahati, NE Region visited ITI Nagaon on 12th January 2021.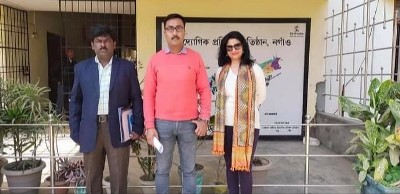 NITI Ayog, Govt. of India, Delhi visited ITI Nagaon for physical Inspection by Dr. Meenal Sharma, Joint Director of NITI Ayog and D. Indrakumar, Deputy Director, NITI Ayog for the purpose Evaluation of Enhancement of Skill Development Infrastructure in North Eastern States.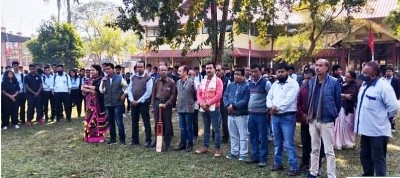 A group photo of Staff and Trainees of ITI Nagaon at the beginning of Annual Sports held in December 2020.